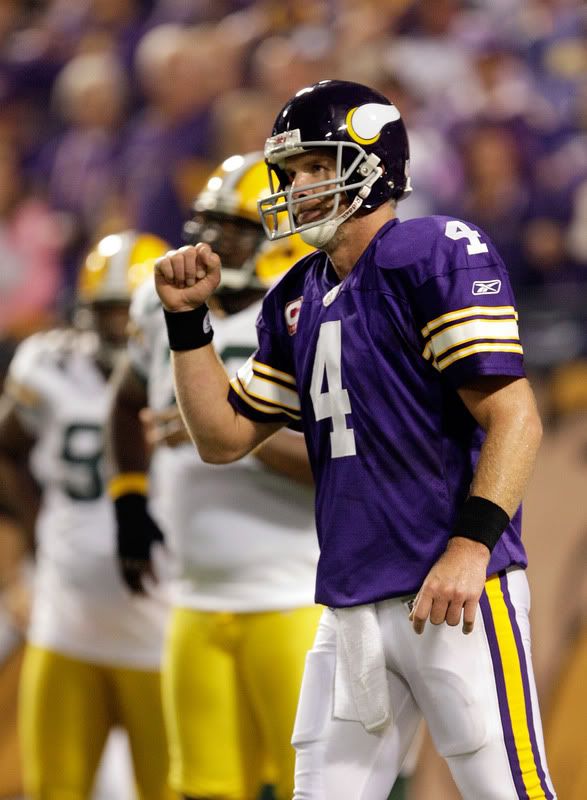 That's right Brett Favre is magic. Two years ago in 2007 Brett Favre retired after 17 seasons in the NFL. After training camp he decided to come back but the Packers didn't want him to play for them anymore. They wanted his backup and first round pick of 2005 Aaron Rodgers, to take over. He asked for a trade and the Green Bay Packers offered him money to stay retired. After he refused they decided to trade him to a team that won only 4 games the year before, the New York Jets. Favre agreed and in 2008 he led the team to a 9-7 record.
On week 4 he had a game for the record books; he threw 6 touchdown passes, a career high, and completed 24of 34 passes against the Arizona Cardinals, beating them 56-35. By beating the undefeated Titans in week 12, they marked their fifth win straight and became the team to beat in the AFC with a record of 8-3. After that it went down hill losing 4 of 5 games. Brett was hurt and it wasn't good for the Jets. He played with a torn bicep tendon for five games and still got them a winning record. He retired for a second time at the end of the season. Then there was talk he was coming back to play for the Minnesota Vikings, the team he originally wanted to play for instead of the Jets. That didn't happen though because the Vikings are in the same division as the Packers. The Packers didn't want to risk getting beat by their former star quarterback. Favre didn't want to retire, but with a torn bicep tendon he didn't know if he could still play. During the off season he got surgery and after he felt his arm could handle it, he agreed to play for the Vikings.
Now in 2009, it's week four and the Vikings are 4-0, one of five undefeated teams in the NFL. Monday was the long awaited game between the Packers and the Vikings. It was a game where not only Brett Favre had something to prove, but also Aaron Rodgers. The second year quarterback wanted to prove to everybody that he was ready to carry a team. Well I think they know he's good but he's not magical. Brett Favre is magical. Even when you think his team is out and he can't possibly bring them back with a minute to go and no time outs he goes for an 80 yard drive and with 6 seconds to go throws a 32 yard touchdown pass to Greg Lewis, who makes an amazing catch and is barely able to land in bounds and drag his other foot for the touchdown, leaving only 2 seconds on the clock and beating the San Francisco 49's 27-24. Yes Magic.
Monday wasn't nearly as dramatic, but for Brett Favre, who turns 40 on Saturday, every game is dramatic, especially if he's playing his former team of 16 years for the first time. In a game where the Vikings greatest weapon was shut down, Brett Favre stepped up to show everyone he still has it. Adrian Peterson is the best running back in the NFL and the Vikings secret weapon, but the Packers did a good job of shutting him down. It was up to Favre and the receivers to do what many people didn't expect; beat Aaron Rogers and the Green Bay Packers.
In the first half Aaron Rodgers was matching Favre touchdown for touchdown, but everything changed in the second half. The Packers weak defense started to show and they couldn't catch Favre and the Vikings. Favre threw 31 passes and completed 24 for 271 yards, that's a 77.4 percentage. He had no interceptions and 3 touchdown passes. The offensive line was good too; they didn't let the Packers sack Favre at all. Their defense was awesome, especially Jared Allen. He had 4.5 sacks and the defense had 8 sacks total. The Vikings won 30-23 with a soon to be 40 year old quarterback, who just had shoulder surgery, going up against a 25 year old quarterback. Love him or hate him, you can't deny this guy is good. This guy is magic.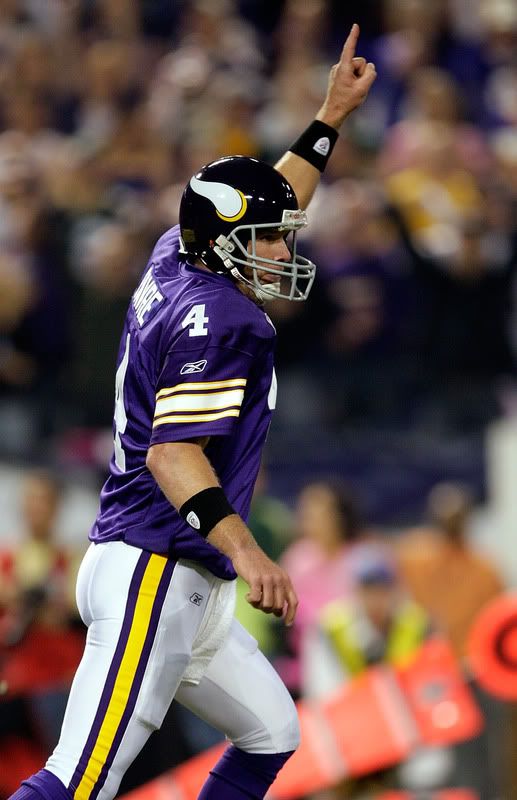 Some other cool facts about Brett Favre:
- He is the only player ever to face and beat all 32 active NFL teams.
- He has 43 4
th
quarter comeback wins.
- He has started in 271 consecutive games.
- He holds the record for most wins, passing touchdowns, passing, passing attempts, and completions.
- He also holds the record for the most interceptions ever. That's not good but I think it's mostly because he's willing to go for those shots other quarterbacks aren't.